How does it work?
Harness Projects are unlike traditional learning experiences. You'll learn new skills by working on live company projects, with experienced mentors and world-class curriculum.
PROJECT DURATION //
Between 7 to 9 weeks, part-time.
Some projects may be longer than others however all follow a design thinking framework to guide you through the problem solving nature of our project briefs.
1
CHOOSE A PROJECT / PACKAGE
Choose a project or package to learn either UX Design or Digital Marketing skills. Project deliverables vary depending on the company requirements and the skill area focus – fundamentals vs specialisations.
2
GET THE BRIEF AND MEET THE TEAM
Project kick off! Your project group (up to 12 only) will meet weekly in the evenings via online workshops to learn on a real company project.
3
LEARN FROM AN EXPERIENCED MENTOR
Your project(s) will be led by an expert who will facilitate the learning experience and support you every step of the way, so you will feel confident in your new skills.
4
FINALISE YOUR PROJECT / PORTFOLIO
As you present the project deliverable's to the company, you'll receive feedback and come away with a portfolio that stands out. Skills acquired will be certified and can be added to Linkedin as real experience!
Which project type is right for me?
Fundamental & Specialisation Projects
Vs
Harness Projects offer a range of 9 week fundamental projects to get you across the full UX design or Digital Marketing process. We also provide 7-week specialisation projects to deep dive into advanced techniques in UX or Digital Marketing.
All on live company projects with an industry leading mentor!
See available projects
WHAT TO EXPECT
Week by week
Understand
Understand
Meet the team This week is all about getting comfortable with what's to come. Meet your fellow students, mentors, start your lesson material and get your brain on the brief!
Fall in love with the problem We're underway! Meet your company representative, review the brief, ask questions and apply your course-learnt skills and mentor's advice to the problem.
Explore
Explore
Dive deep into the solution Your project is coming alive. Speak to customers, gather research and ideate your solution. You're learning the essence of what being a UX Designer or Digital Marketer is all about.
Materialise
Materialise
Refine the solution Turn those insights into a solution to be proud of. These weeks are about creating, testing and reviewing your solution.
Final presentation
Final presentation
Final week, pitch perfect It's pitch day! Deliver a winning pitch to a real company and get direct feedback. Here's your opportunity to practice your communication skills, pitch experience and flex your new UX or digital marketing knowledge.
Understand
Understand
On our specialisation projects, we get straight into things! This week you will meet your mentor, fellow students and the company stakeholder. Together, you will unpack the project brief and learn more about the task at hand!
We're underway! Depending on the specialisation area of your project, you will begin diving into advanced techniques and begin applying them to your project.
Explore
Explore
Learn advanced techniques to take your solution forward. Your mentor will be providing you guidance along the way and each weeks check-in is a chance to get sign-off and feedback on your progress.
Materialise
Materialise
It's pitch week! Finalise your solution and get ready to present back to your client and receive feedback. Specialisation projects a jam packed with learning and this week is a chance to show off all that you've learned and walk away with a portfolio piece to be proud of.
Your Employability Scorecard
In consultation with world-leading psychologists and leading UX hiring managers, Harness Projects has developed a world-first employability score-card for UX designers. This breaks down the exact areas of focus you need to ensure your employability in UX. Throughout all of our Harness Projects, our mentors will be assessing your performance and growth across a series of 36 UX technical skills and attitudinal strengths.
You will receive action plans and feedback for areas requiring focus. Over 100 UX hiring managers have mapped the capabilities we are assessing you on to real world salary ranges for Junior through to Senior UX designers.
Your new skills

Certified
Add the accreditation to Linkedin, take it to interviews, show your line manager…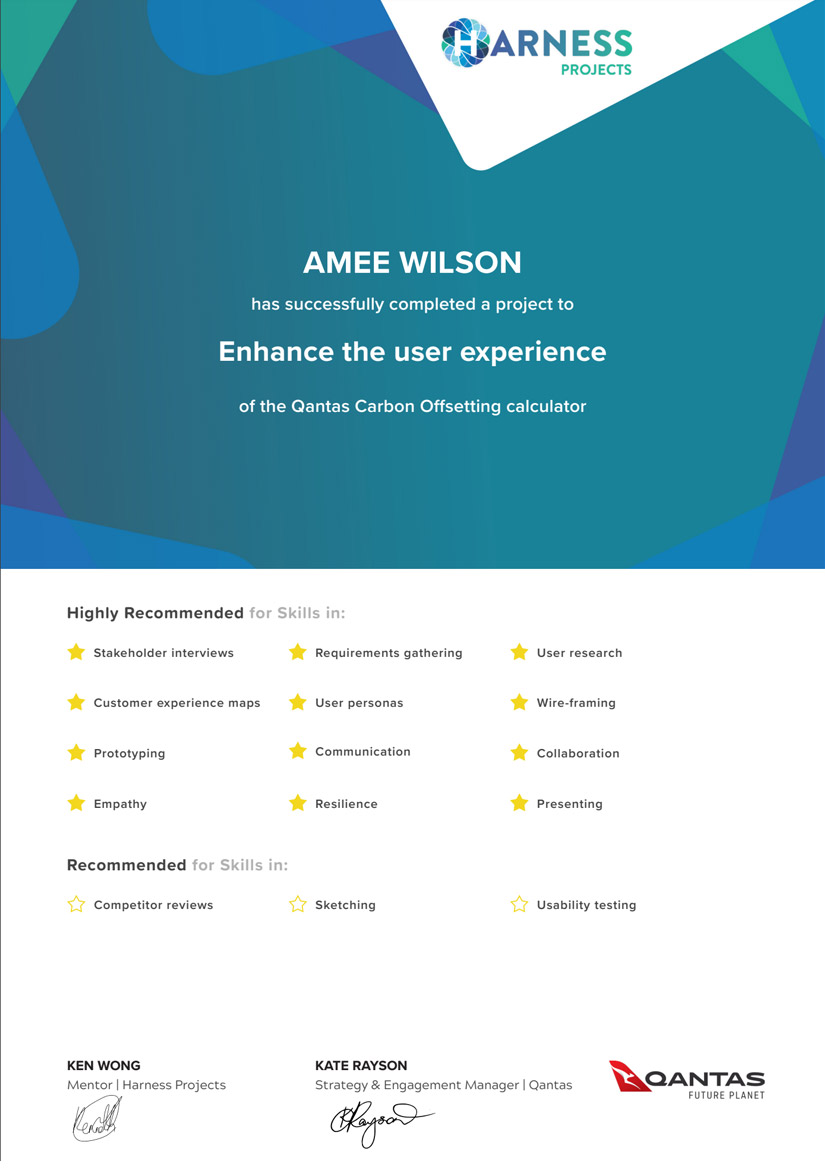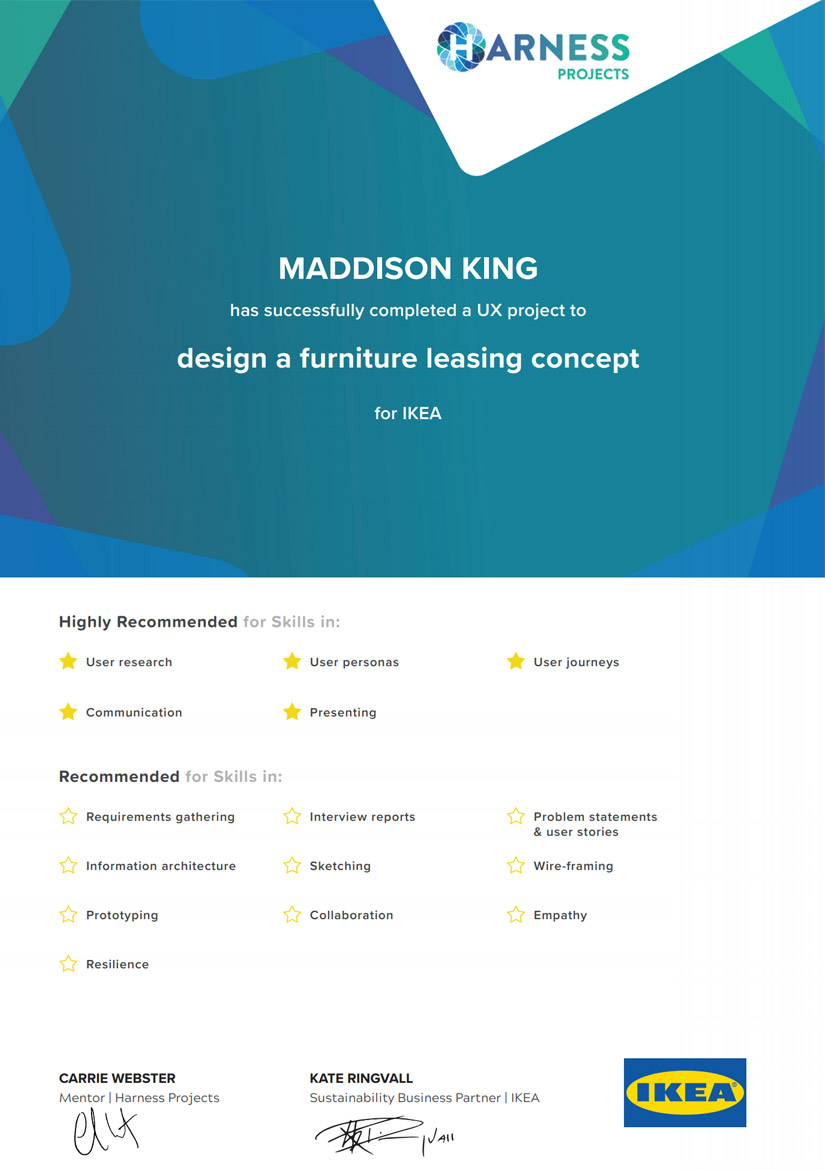 Hear from some of our recent graduates
I thoroughly enjoyed working on this course. It has expanded my mind and knowledge and I have grown as a person professionally and personally. The brief was definitely a challenging task, but with the help, guidance and encouragement of our mentor, it made me realise I wouldn't have had it any other way
I can't speak highly enough of this course! It was a transformative experience that exceeded my expectations and set me up with the confidence and practical skills to apply for a Junior UX role, and that is exciting!
Great for those who want to get into UX - this is an excellent way to get hands on experience, working with a company on a real project. It is short but you'll learn lots and quickly!